questions
Location: Photographic Services is in Foy Hall, room 104 located at 1310 Wilmore Drive, Auburn, AL 36849. Our office is adjacent to Panda Express in the food court.
Parking: A zone parking is located behind Foy Hall and is accessible from Wilmore Drive. Parking is limited, but there is a parking space designated for 15-minute loading zone.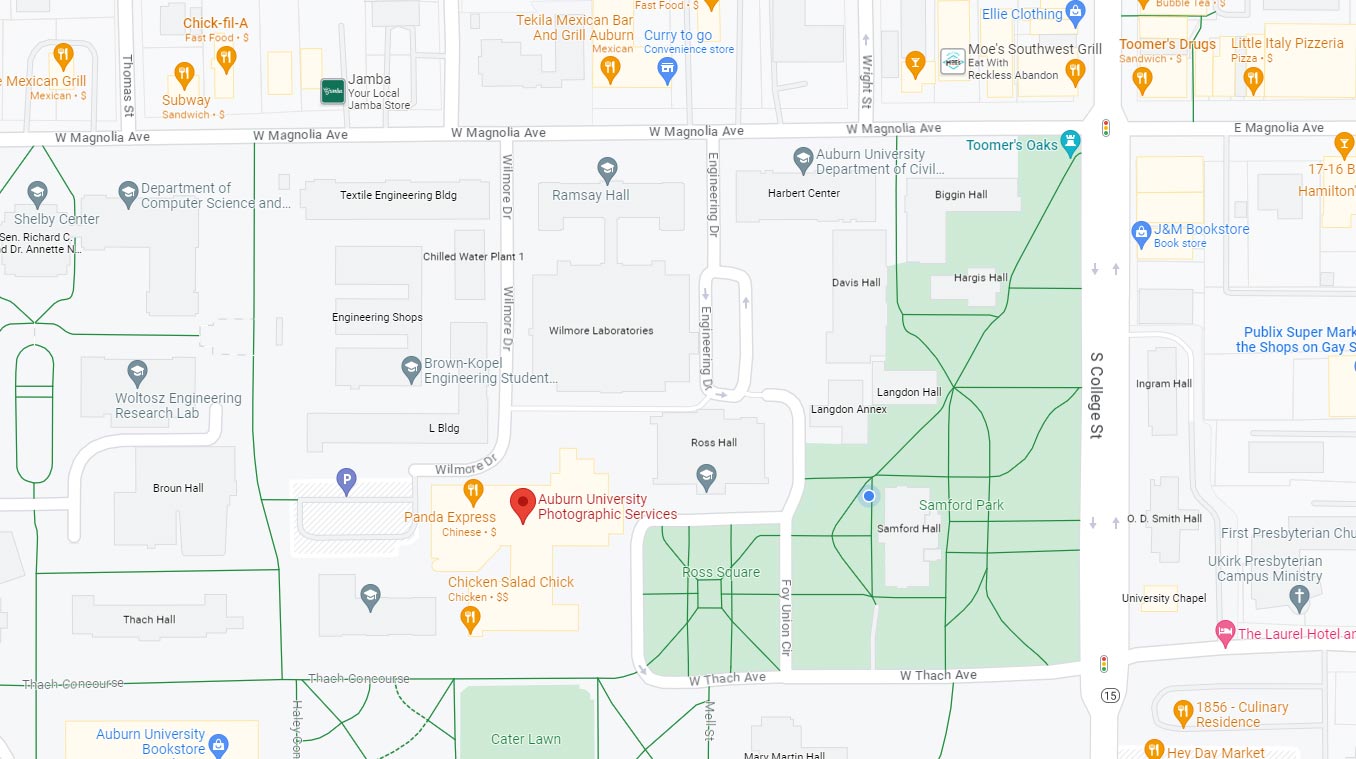 All faculty and staff are offered one free headshot which can be updated every three years. Employees can choose between a studio or outdoor headshot. Additionally, headshots are offered to the student government association officers.
Outdoor Headshots: Only offered in the spring (mid-March to May) and fall (September to November) depending on the weather.

Attire: Solid colors (except white) look best for photos.

Headshot Availability: Mondays between 1:30-4:30 p.m. and Tuesday between 8:30-11:30 a.m.

Schedule Appointment: Request form must be submitted online to schedule an appointment.

Receiving Headshot: One image will be selected for basic retouching at the time of your appointment, then emailed to recipient within 3-5 business days. Individuals needing a headshot from a previous appointment should contact their campus communicator as they are responsible for providing images to those within their college or department.

Studio Backdrops and examples: Studio backdrops consist of brown, blue, and white
Passport photos are not offered. Cameragraphics or a local pharmacy (e.g., Walgreens or CVS) can provide passport photos.
No. Photo IDs are not offered through Photographic Services.
Faculty and staff IDs: IDs are available at the Onboarding Center, located at 1530 East Glenn Ave. Our hours of operation are Monday-Friday, 7:45 a.m. - 4:45 p.m.

Student IDs: Student IDs are available at the Tiger Card office in Foy Hall, room 261, Monday-Friday, 7:45 a.m. - 4:45 p.m.
Auburn Athletics provides their own team of photographers to cover sporting events. However, our photographers attend some athletic events to shoot the atmosphere for general university use.
Current photo shoots are uploaded to AU Image Library and are available to view and access for 3-5 years. Due to storage limits, images are removed and archived for long-term storage on external drives. Communicators are encouraged to download and save images from photo shoots to avoid retrieval fees. Historical images are available indefinitely in AU Image Library.
Student photographers are available on a first come, first serve basis for events.
Prints can be ordered online through the AU Image Library.
Campus offices should purchase prints directly through Photographic Services to receive department rates and avoid sales tax charges.
Images in the public collection are viewable by anyone. The campus communicators collection is accessible by communicators only as it is password protected. Campus communicators must login to download images.
No. The AU Image Library operates through a third-party site, PhotoShelter. Accounts must be created by using your university email address and a password of your choice.
Workspaces empower creative teams to collect assets from various collections in the AU Image Library and direct user uploads. After receiving permission, users can view, share, comment on, approve, and download assets for creative projects. To create or use a Workspace, collaborators must have a PhotoShelter account.
For more information follow click here.
A workspace can be created by selecting "new workspace." When creating a name for your workspace, type the current date (year, month, day, 20230130) then a title of your choosing. An image can be added to your workspace by placing your cursor over an image and clicking the workspace icon, which is a circle with an addition sign in the middle. A workspace can be shared with other users by clicking on the gray circle with the addition sign in the top right corner of the screen.